> Health, Beauty & Hygiene > Bath Products > Soap & Body Wash > Neutriherbs Activated Black Charcoal Soap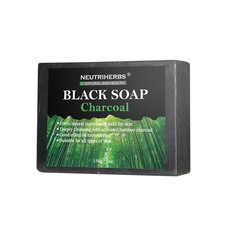 Neutriherbs Activated Black Charcoal Soap - 150g
1 Offer from:

R 179.00
Brand: Unbranded

Model: PLID46920373

1 Offer For Neutriherbs Activated Black Charcoal Soap - 150g
Product Information
Features:
- FIGHTS ACNE & BREAKOUTS
- Reduces skin oils, irritation, breakouts, acne, blackheads and whiteheads with a facial cleanser made with natural ingredients.
- HYDRATING MOISTURISER
- Enjoy smoother, healthier skin as our deep cleaning soap with activated bamboo charcoal moisturizers, protects and defends.
- BRIGHTER, RADIANT TONE ? Not only does our soap help reduce blemishes and breakouts, it tones, lightens and rejuvenates for a more youthful and radiant skin.
- SAFE FOR ALL SKIN TYPES ? Whether you suffer from dry, oily or combination skin, our activated charcoal is safe, effective and won?t dry you out.
- GENTLE DAILY USE ? Neutriherbs soaps are carefully crafted with natural, organic bamboo that is soft on your skin and made for daily use. Description: Rejuvenate your skin and recapture your youthful radiance by saying goodbye to acne, blemishes, dark spots and breakouts. Oily skin, breakouts and acne make us all feel the same way no matter how young or old we might be?uncomfortable and unconfident. But preventing breakouts and mild acne cases is easier thanks to Neutriherbs Activated Charcoal Bamboo Soap, a natural facial cleanser and clarifier that helps absorb minerals, toxins and impurities to reveal healthier, more beautiful

skin. Safe for all skin types, our black charcoal soap effectively neutralizes oils and chemicals in your skin while safely removing dirt, makeup and oils from your pores to help clean and clarify deep within. Perfect for leaving you with a you a smoother, brighter, healthier-looking complexion, Neutriherbs Activated Charcoal Bamboo Soap will help you recapture your youthful radiance each and every day. Directions: Lather between hands with water, and apply generously to face and body. This soap is gentle enough to use for every day. Ingredients: Cocos Nucifera (Coconut) Oil, Elaeis Guineensis (Palm) Oil, Stearic Acid, Myristic Acid, Glycerin, Sorbitol, Propylene Glycol, Sucrose, Water, Sodium Hydroxide, Charcoal Powder, Aloe Barbadensis Leaf Extract, Spiraea Ulmaria Flower Extract, and Citrus Aurantium Bergamia (Bergamot) Fruit Extract.