> Health, Beauty & Hygiene > Feminine Hygiene > Feminine Hygiene > Reusable Sanitary Pads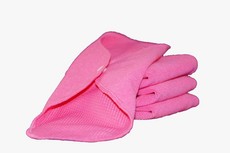 Reusable Sanitary Pads - Self-disinfecting
1 Offer from:

R 269.00
Brand: Unbranded

Model: PLID56058299

1 Offer For Reusable Sanitary Pads - Self-disinfecting
Product Information
One package contains:
- 3 x Super Day pads;
- 1 x Long Night pad;
- 1 Storage bag. Size and absorption:
- Super Day pad L: 29 cm; W: 20 cm
- Can absorb approximately 10 ml
- light to medium flow
- Long Night pad L: 34 cm; W: 20 cm
- can absorb approximately 15 ml
- Heavy flow Safepad™ is a one of a kind antimicrobial and reusable sanitary pad designed to provide a safe and infection-free experience while in use. The innovative antimicrobial technology kills bacteria and fungi and can even be washed in contaminated water! It can be dried in privacy in a well
- ventilated area and does not have to be dried in the sun like other reusable sanitary pads. It can be reused for approximately 5 years which makes it an eco-friendly, sustainable and economical option. 3 good reasons to choose Safepad™: Health and Hygiene:
- Safepad™ is antimicrobial and disinfects itself. It is designed to provide a safe and infection-free experience while in use. Comfortable:
- Safepad™ is made of a soft fabric material, that causes no irritation. Easy to use:
- Safepad™ fabric technology ensures high and immediate absorbency, non-leakage

and quick drying after washing. More information: 75% of all women experience vaginal yeast or bacterial infections during their lifetime. These infections cause health issues and in worst cases will impact fertility. Safepad™ hygienic sanitary pads are designed with a permanently bonded antimicrobial technology that helps to reduce vaginal infections caused by Candida Albicans along with infections from other pathogens. The antimicrobial technology is based on a treatment that leaves a positively charged layer on the fabric. This layer will attract and kill the negatively charged microbes, like bacteria and fungi. The treatment does not contain any harmful chemicals. The permanently bonded antimicrobial fabric along with a highly absorbent material provides a comfortable and hygienic experience for the women. Safepad™ is made of a soft, durable and breathable fabric that offers re-usability, protection and comfort. What's in the box One package contains: 3 pieces of Super Day pads; 1 piece of Long Night pad; 1 Storage bag.