> Health, Beauty & Hygiene > Feminine Hygiene > Feminine Hygiene > Ladies' Own Washable Sanitary Pads 2 Pads Per Pack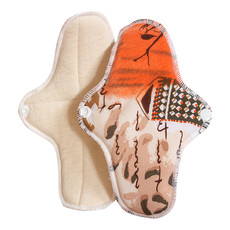 Ladies' Own Washable Sanitary Pads 2 Pads Per Pack
1 Offer from:

R 120.00
Brand: Unbranded

Model: PLID61036355

1 Offer For Ladies' Own Washable Sanitary Pads 2 Pads Per Pack
Product Information
Directions for use:
- When: Use over your monthly menstrual period or as a mild incontinence pad.
- How: Secure the pad around your underwear with the snap fastener. Un-bleached cotton with cross stitch to skin.
- Change when required.
- Out and about: Use a little waterproof bag to store used pads in.
- Pre-soak pads in a small (lidded) bucket of cold water (optional: add salt to water). Place all used pads in this bucket.
- Clean: Hand wash with a laundry soap bar and/ or delicate machine cycle wash in cold water. Air dry.
- Do not tumble dry or use bleach.
- With correct care, the pads can be re-used for a few years. What's in the box 2 x Reusable menstrual pads for women.