> Health, Beauty & Hygiene > Skincare > Foot Care > Adjustable Bunion Night Splint / Adjustable Velcro Bunion Night Splint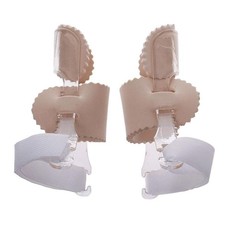 Adjustable Bunion Night Splint / Adjustable Velcro Bunion Night Splint
1 Offer from:

R 195.00
Brand: Unbranded

Model: PLID49115205

1 Offer For Adjustable Bunion Night Splint / Adjustable Velcro Bunion Night Splint
Product Information
Features:
- Bunion Night Splint: It applies a 3-point pressure system to relieve the hallux valgus deformity and correct the big toes to its natural alignment. Ease big toe pain and soothe your sore feet at night; get straightened toes next day.
- Fixed Plastic Caps Splint: Hold big toes measuring at most 3.9" and comfort big toes.
- Bunion Corrector: Relieve hallux valgus while barefoot resting like sleeping on bed.
- Walk on your heels to get around while wearing the Bunion Night Splint.